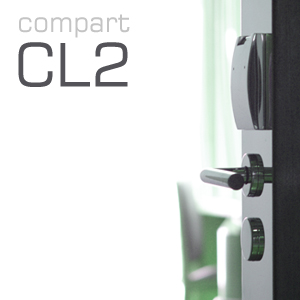 Flexibility
Front office systems and encoders are network-capable (IP) and can be linked to various PMS systems, making keycard creation easy and quick. Magstripe and transponder cards are vendor indipendent (ISO 15639 or ISO 7811).
Optional modules such as wallreaders or lockboxes expand the capabilities on special or custom doors, automatic doors, steel doors and up to single and double-wing exit doors. All doors with DIN EN 179 or DIN EN 1125 fittings can be equipped with compart locks.
Awarded design, free choice of colors, no limit in hotel size and the modular structure make the compart CL2 system the most flexible on the market.
Certification
The compart CL2 system is approved by the MPA NRW testing institute, report No. 12001163 for use on fire doors.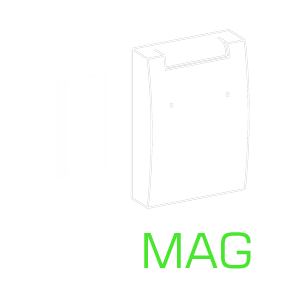 Vendor indipendent magstripe keycards according to ISO 7811 HiCo and LoCo standard.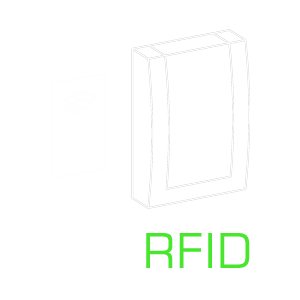 Vendor indipendent transponder keycards according ti ISO 15639 RFID (13,56 MHz) standard.
Features
CL2 reader units:
Available in magstripe or transponder technology
(can be combined)
Can be mounted on any existing doors with
DIN mortise locks
Sound and fire protection properties of the doors
will remain
Modular cardreaders are indipendently positioned
from the lever handle set, any combination is possible
Suitable for escutcheon and rosette sets
Mortise lock:
Electromagnetic mortise lock according to DIN 18250
Tested and approved under DIN EN 179 and DIN EN 1125
Anti-Panic function: Lever operates deadbolt and latchbolt simultaneously
Auto deadbolt: Extends automatically with closing of the door, securing the room during presence and even absence of the client
Front office system:
Unlimited number of rooms
Manufacturer-indipendent keycards (reusable)
IP keycard encoders
User-friendly, intuitive software for convenient use
Security through permanent system transaction recordings
Support for all common PMS and POS systems
FO system components:
Tracer / Encoder: for creating RFID or MAG guest
and staff cards
MITSI: Portable handheld reader/programmer for lock audit
Server: Dedicated or client-only application
Surfaces
Available materials:
Die-cast aluminum (indoor use)
Cast stainless steel
(extremely weather resistant e.g. sea air)
Available colors:
Stainless steel satin / polished
Nickel satin
Chrome
Brass satin / polished
Bronze satin /polished
ALL RAL colors
Optional PVD titanium coating
(high strength / scratch resistant)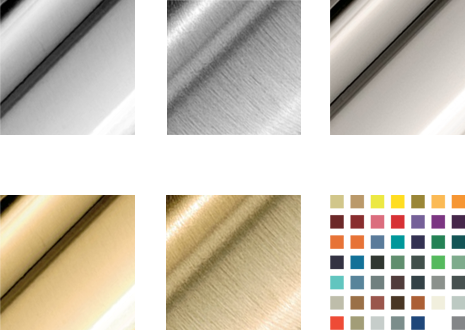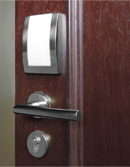 CL2 RFID
Stainless steel polished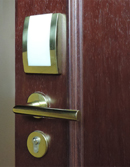 CL2 RFID
Brass polished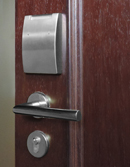 CL2 MAG
Stainless steel satin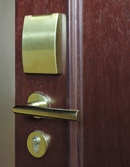 CL2 MAG
Brass satin
Modular design
Double rebated or cassette, sliding or glass doors, the compart CL2 system offers the right access control solution.
The separation of reader unit and handle set allows any combinations. You have free choice of handles and fittings, combination with existing fittings is also possible.
If cardreaders are not desired or possible on the door itself, the CL2 cardreaders are universal for door and wall mounting. For example: Glass and sliding doors or barriers and gates. No request is too specific for the compart CL2 system.
Optional components
Wallreader: To control electric door openers, barriers,
gates etc.
Lockbox escutcheon with integrated, motorized clutch to retrofit existing doors, maintaining the mortise lock. With "permanent-open" function for meeting rooms or offices
Elevator reader with dynamic authorization control
Distance card reader: Reads keycards (RFID) up to 3 meters away. Ideal for automatic waiter doors or similar
Learning-card system
Learning-cards:
Can be used for hotels up to 50 rooms
Works with hard-coded cards that are "taught" by a learning-card once at the lock
No computer / tracer / encoder necessary